The Fortinet Security Fabric
The Fortinet Security Fabric, a proven and acclaimed solution to protect your business.
Powered by digital transformation, businesses integrate a variety of technologies to meet the needs of their customers and the evolution of their market. This transformation, accomplished through separate enhancement projects, creates a complex, unified security infrastructure. It then becomes, despite the best of wishes, very difficult to properly protect its information assets.
The Fortinet Security Fabric solution is there to meet this need. It is an architectural approach that unifies security technologies deployed across the digital network, including multi-cloud, terminals, email and web applications, and network access points, into one integrated security system.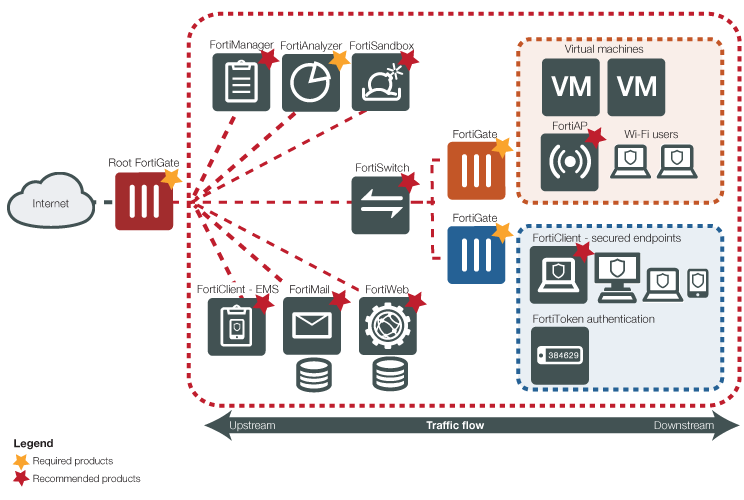 Once traditionally isolated security solutions have been combined into a unified Security Fabric framework, organizations can:
Thoroughly examine their distributed network to detect advanced threats
Adapt dynamically to the evolution of their network architecture and the threat landscape
Take advantage of the continuous assessment of the reliability of the heart of their system up to the cloud
Our certified team, widely appreciated by our customers, will be happy to discuss the possibilities with you and offer you a solution tailored to your needs
Our team of certified experts is here for you
Our team of certified experts is dedicated to serving our customers, whether for transformation projects, consultation, IT infrastructure management, security management, or, during a crisis where technologies are strongly used.
Our expertise and knowledge of Fortinet products is widely recognized by the industry and highly valued by our customers.

Click here for a short list of Fortinet products that we master and that we have deployed throughout our territory.
Simplify the management of your global network, from branches to head office
Remote corporate sites that operate their digital transformation have a major impact on the network. As corporate users access the Internet, locally or remotely, to use their SaaS applications, WAN and edge access are becoming more complex. In addition, connected objects that enter the network of remote sites constitute new vulnerabilities that the attackers are trying to exploit. New generation network strategies are needed to control this risk.
Fortinet SD-WAN and SD-Branch solutions allow companies to converge their security and network access. The advantages of the Fortinet Security Fabric thus extend to remote sites by consolidating access to the network within a secure platform which offers visibility and security on all the devices connected to it.
You want to improve your security posture, simplify the overall management of your network, and reduce your operating costs? Our team of experts will be happy to discuss this with you.